Hotel Riederalm
5771 Leogang
michael huber | www.huber-fotogr
michael huber | www.huber-fotogr
michael huber | www.huber-fotogr
Lorenz Masser
michael huber | www.huber-fotogr
© michael huber I www.huber-fotografie.at - michael huber | www.huber-fotogr
© michael huber I www.huber-fotografie.at - michael huber | www.huber-fotogr
hôtel

100 Lits, 66 Chambre

Familie Herbst

Rain 100, 5771 Leogang
Pole position for active vacationers in the Riederalm - your Good Life Resort Leogang
Our Riederalm Resort is perfectly located between the rocky peaks of the Leogang Mountains and the green tops of the Pinzgauer grass-mountains, directly next to the valley station of the Leogang Cable Cars and Bike Park Leogang . This family-run hotel is an ideal base to explore this wonderful hiking, climbing and cycling paradise Leogang and the Salzbuerg Land.
Whether downhill riders , mountain bikers and leisure cyclists - our house is an ideal starting point for all cycling enthusiasts . Hikers and climbers find perfect tours of every level of difficulty and for the golf enthusiasts are 10 fabulous golf courses in our Region (all in 1 hour available).
new holiday pleasure in the Riederalm
So much new, great and unique features. Spa on 2.000 m²!
Mountain Spa
In our Mountain SPA you will enjoy wellness deluxe. This SPA area is only for adults and offers peace, rest and relaxation – all with the magnificent view of the mountains of Leogang.
Leogang's first thermal pool with a length of 20 m, indoor entrance and cozy 33 ° C
New panoramic sauna (90 ° C) with a magnificent view
Plunge Pool "glacier ice"
Relax-cube with an amazing view
Pinzgauer Wasserfestspiele
water and wellness enjoyment for all generations
panoramic indoor pool "der Bergsee / the mountain lake"
with a swimming gate to the 20m long Leoganger Sport Outdoor Pool
experience waterslide guarantees fun and excitement for young and old
water paddling pool (3 x 3 meter)
dress on sauna
family-relax
gorgeous living atmosphere
You can look forward to suites and rooms with high quality furnishings from a combination of luxurious fabrics and natural materials.
restaurant - culinary hay(igh)lights...
Our new restaurants surprise with a splendid look & feel that is also devoted to our home - Pinzgau. Each of them individually furnished with loving attention for Details.
Come in at the restaurant entrance and you culinary holiday can really start. A special highlight is our exclusive wine tower with a myriad of fine wines and rarities.
service quality as before
Of course, the personal and familiar atmosphere, the highest quality from our gourmet kitchen and the charming and friendly Riederalm service remains unchanged!
book your introduction-offer now:
info@riederalm.com
Hotline: +43 6583 7342
The Hotel Riederalm, with 66 comfortable rooms and exclusive suites, is characterized by a family atmosphere and personal attention by the host family. Creativity and excellent food from the region, traditional recipes and fresh ideas are the ingredients for the culinary delights, which inspire our guests.
Our SPA on 2.000 m² offers everything your heart desires. Relaxation in our Mountain - SPA with 6 different saunas and steam baths, fantastic themed rooms for relaxation, water-fun on our indoor water slide "waterfall" and in our indoor pool " the lake " and in the heated Leoganger Sports Outdoor Pool with 20 m length . Children splash around in the baby pool " PlitschPlatsch ". Sunbather enjoy our sunny Meadow.
Children will enjoy the beautiful adventure game park with children's traffic park with CatCars and Moon Harleys , climbing igloo, Mini - Flying -Fox , 3 giant trampolines, swings, a slide, PitPat , Chlidren-Alm , indoor games rooms and much more.
Videos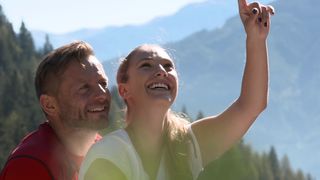 00:55
01:01
Disponibilité Hotel Riederalm
à la demande
disponible
non disponible
fermées
Forfaits
| Hiver | Haute saison | Basse saison |
| --- | --- | --- |
| Nuitée | - | - |
| petit-déjeuner compris | 150 € à 246 € | 114 € à 217 € |
| Demi-pension | 158 € à 254 € | 122 € à 225 € |
| Tout compris | - | - |
| Été | Haute saison | Basse saison |
| --- | --- | --- |
| Nuitée | - | - |
| petit-déjeuner compris | 107 € à 183 € | 102 € à 172 € |
| Demi-pension | 115 € à 191 € | 110 € à 180 € |
| Tout compris | - | - |
Our Riederalm "Good Life" inclusives:
Riederalm-gourmet- comfort board (breakfast buffet, afternoon snack, 5-courses dinner with 4 main courses to choose in the evening)
Use of our Wellness area - 2.000 m²
Use of our deep-level-garage
all our Riederalm-facilities
Saalfelden Leogang Card with many benefits
Prices excl. local tax of € 2,00 per night
hôtel

100 Lits, 66 Chambre

Familie Herbst

Rain 100, 5771 Leogang
Chambre/Appartements
Modes de paiement

Cash, bank Transfer, EC-bank-Card, VISA, MasterCard