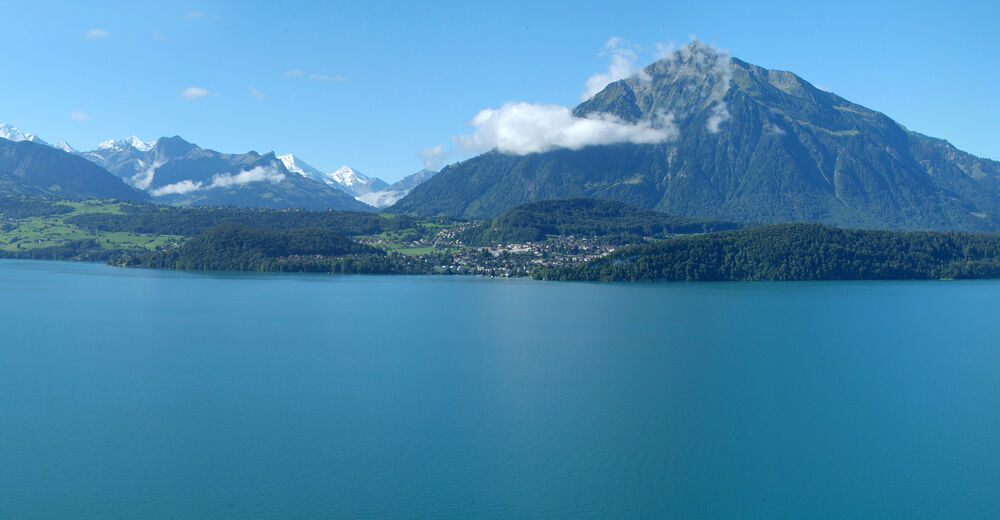 A mountain summer with urban flair
Thun lies on the sunny shore of the lake of the same name: home to shops rich in tradition, trendy locales, cultural highlights and historic walls. The Zähringen town is surrounded by a Mediterranean-Alpine landscape that is justifiably known as the Riviera of the Bernese Oberland.
The rolling hills of the Mittelland become more rugged, the valleys deeper, the villages smaller. The Interlaken holiday region nestles in the unique landscape of the Bernese Oberland. The largest town in the area is Thun with a population of around 43,000.
Overlooked by the whitewashed walls of the medieval castle, the narrow lanes of Thun's old town quarter are home to businesses with a rich tradition as well as those that are innovative. A particularly large number of craftsmen, artists and shopkeepers have established themselves in the Obere Hauptgasse, its lower and upper levels, bearing witness to the town's Zähringer past.
There's the cutler, who is the fourth generation of his family to run the business; the craftswoman who fashions one-of-a-kind pieces of jewellery and the furnishing and design stores with a selection to add that extra flair to your home.
---
Conseils loisirs Thunersee
Montrer tous les activités loisirs
---
Contacter Thunersee
Thun-Thunersee Tourismus
Seestrasse 2, CH-3600 Thun
Téléphone

FAX

Page d'accueil
E-Mail
Demande de renseignement et Commande de prospectus Hébergements
Remontée mécanique Fonctionnement en été
Hébergements Thunersee
2 Hôtels, Locations de vacances...
Webcams