Informations actuellesAujourd'hui, 14:02
Remontées
Heures d'ouverture Hiver
Saison

20.12.2019 - 14.03.2020

Heures d'ouverture

09:00 - 16:00
Pistes
Débutants

s.o.

facile

1 km

moyen

1,5 km

difficile

0,5 km

total

3 km
Station de ski
The Ski Resort Aldrov is situated at an elevation of 733 metres and skiers can choose one of four ski slopes - there is a chairlift over three of them, it´s called Prezidentský expres (Presidential express) and there is a lift Jizerka on one of the slopes.
The four-seat chairlift Doppelmayr overcomes difference in altitude 135 metres during several minutes and every hour transports up to 2400 people. So it happens very seldom that you would have to spend more than 10 minutes waiting at the bottom station of the lift. The transportation belt takes you from the gate to the coming bench of the lift. President Václav Klaus attended the lift opening ceremony and that is why it was named Presidential Express.
Lift Jizerka is also from the company Doppelmayr with the transport capacity of 1200 persons/hour and there is a black slope too.
The resort offers excellent conditions for the whole winter for all skiers from beginners to advanced ones due to technical snow. For people who enjoy night skiing, the slopes are well lit.
There is all service available in the ski resort - starting with refreshment and finishing with ski and snowboards rental and ski and snowboards service – everything in the mountain lodge Aldrov that is located at the bottom station of the lift. The same check-in system called Golden Pass started to be used in both resorts of Vítkovické valley (Aldrov a Vurmovka) this year. With the Golden Pass you can visit a cableway and 2 lifts, it means 5 slopes.
Contacter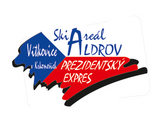 SLUŽBY Vítkovice s.r.o.
CZ-51238 Vítkovice v Krkonoších
Téléphone

Info neige

Page d'accueil
Plus d'information
Webcams
Stations de ski préférées