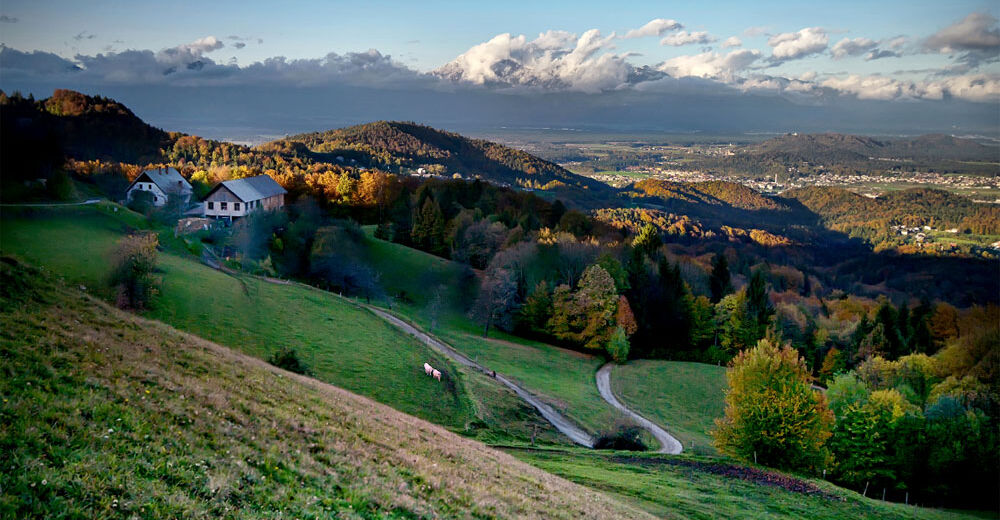 Medvode is the "green gateway to the capital"
Medvode* is a town and the centre of the municipality of Medvode. The town is situated at the point where the river Sora flows into the river Sava, hence its name, which literally means "between the waters".
The main road connecting the Gorenjska region and Ljubljana runs through the town. Scheduled daily bus services link Medvode to Kranj and Ljubljana and the town is also on the route of the number 25 bus operated by Ljubljana Public Transport. Medvode is approximately 242 km from Venice, 450 km from Vienna and 152 km from Zagreb.
The municipality has a population of 14,300 divided among 31 settlements over an area of 78.5 square kilometres. At the southern edge of Medvode a local road branches off past Goričane Manor and the famous church of St Andrew in Gosteče in the direction of Škofja Loka.
The territory of the present-day settlement has been inhabited since prehistoric times, a fact demonstrated by the find of a bronze axe during the construction of the hydroelectric plant on the river Sava at Medvode, the traces of a Roman settlement in Rakovnik and by gold coins in Ladja - proof that the area was crossed by important routes linking the Primorska (Littoral) and Koroška (Carinthia) regions with the Gorenjska (Upper Carniola) region.
Today the municipality has a health centre, four full primary schools and two branch schools, a nursery school, a private educational institution, a L'Arche community where people with developmental disabilities live together with those who assist them, an old people's home, a library, a post office, a bank, local television station, five parishes, several cultural centres, sports halls and playing fields. The municipality of Medvode is not only attractive because of its diverse history, its interesting location and the prominent figures born here, it is also becoming one of the most attractive points of contact for tourism, in particular for the inhabitants of Ljubljana, the capital of Slovenia.
Quelle: www.slovenia.info/en/-ctg-kraji/Medvode.htm?_ctg_kraji=3292&lng=2
---
Conseils loisirs Medvode
Montrer tous les activités loisirs
---
Contacter Medvode
TIC Medvode
Cesta ob Sori 3A, SI-1215 Medvode
Téléphone

FAX

Page d'accueil
E-Mail