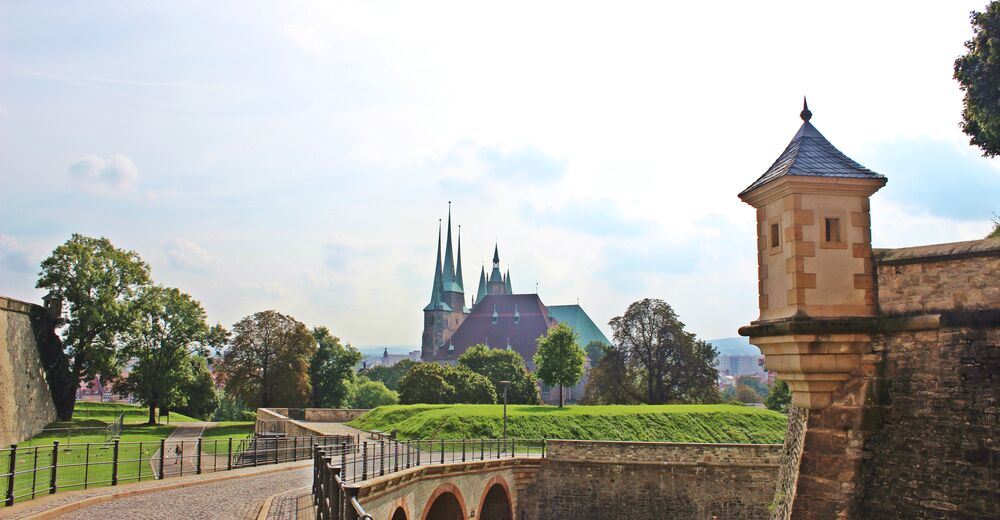 Erfurt - Rendezvous in the middle of Germany
Centrally located in the green heart of Germany and Europe, the Thuringian state capital is quick and easy to reach. Whether via the - literally excellent - ICE railway station or the excellent motorway connections: You can always get to Erfurt!
And that was already the case in the Middle Ages. Thanks to its central location at the crossroads of two major European trade routes, medieval Erfurt developed into an important trading city.
Today, in its function as a regional centre, the city unites a wide variety of lifestyles, offers excellent prospects as a university location and is an important business location for companies.
The state capital is a lively children's media city, a successful sports city and a popular place for tourists and conference guests. Over 215,000 citizens make Erfurt unique - and there are more every year!
Numerous historic buildings, winding alleys and beautiful squares along the waterways of the Gera shape the image of the city centre. One of the most impressive and best-known landmarks is the Krämerbrücke. Even in the Middle Ages, traders sold their wares on Europe's longest continuously built and inhabited bridge.
One of the largest and best-preserved baroque inner-city fortifications in Europe is located on the historic Petersberg. The site was sustainably upgraded as part of the Federal Garden Show 2021: In addition to barrier-free access, a modern visitor center with an attached interactive exhibition about the history of the Petersberg was built. During a visit, you can also explore the mysterious listening passages in the fortress walls or enjoy the unique view over the old town.
Translated with www.DeepL.com/Translator (free version)
The vibrancy of earlier times can still be felt thanks to the many small shops, cafés and galleries. The imposing church ensemble of St. Mary's Cathedral and St. Severi on the Domberg is another landmark of the state capital and gives Erfurt its unmistakable face. The two churches can be reached from Domplatz via the 70 steps of a large flight of steps, which also provide a unique backdrop for many events such as the Christmas market or the DomStufen festival.
In summer, Erfurt residents and visitors alike enjoy the unique flair on one of the lively squares and listen to the sounds of the street musicians. In the evenings, countless pubs, from rustic to chic, open their doors. Erfurt invites you to enjoy life with all your senses.
---
Conseils loisirs Erfurt
Montrer tous les activités loisirs
---
Contacter Erfurt
Erfurt Tourismus und Marketing GmbH
Benediktsplatz 1, D-99084 Erfurt
Téléphone

FAX

Page d'accueil
E-Mail