Ski de fond
Bad Mitterndorf - Tauplitz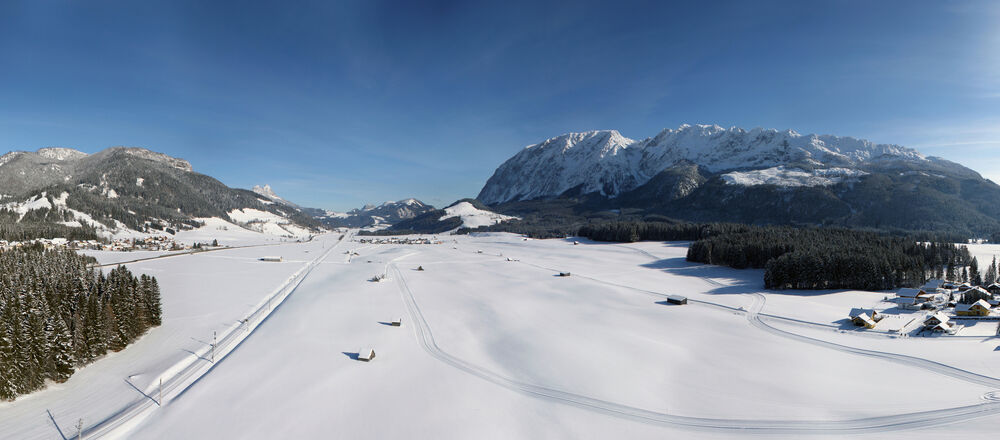 Pistes de ski de fond Aujourd'hui, 07:56
Bei starkem Wind kann es zu Schneeverwehungen kommen.
Horaires d'ouverture: tous les jours
Ausseerland-Salzkammergut
Ausseerland - the geographic heart of Austria.
The picturesque Ausseerland is divided into four regions. Altaussee lies at between 730 and 910 metres above sea level. Here the Blaha Alm cross-country skiing trail is the main attraction. 13 kilometres of classic and skating-style cross-country skiing await you. And the town cross-country skiing trail on the Fischerer Feldern is floodlit (1 km).
Bad Aussee, just next to it at 659 - 700 metres above sea level, offers a "Panoramaloipe" ("Panoramic Trail") (16 km), a "Sonnenloipe" ("Sun Trail") and, at the same time, beautiful distant views of the Dachstein and the Loser.
Bad Mitterndorf and Pichl-Kainisch are the cross-country skiing centres in the moorland between Ödensee, Bad Mitterndorf and Kulm, the world's largest natural ski jump. The sports circuit is 86 km long, the skating-style circuit 70 km.
And finally: the Tauplitz and the Tauplitzalm. Casual cross-country skiers have a whole range to choose from in the town and look over to Grimming from the sunny plateau. The "Höhenloipe" ("Peak Trail"), on the other hand, has a very good guarantee of snow and is the training centre for world and Olympic champions. A total of 219 km of cross-country skiing trails await in Ausseerland.
---
Prix
Tariffs 2017/2018:
Day ticket € 7, - also available at the 9 ticket machines with COINS
Day ticket € 10, - at the checker (on-trail)
3-day ticket € 17, - (3 days in a row)
Weekly ticket (7 days) € 24, - (for guests from Tauplitz, Kainisch and Bad Mitterndorf
m. Registration Card)
Weekly ticket (7 days) € 33, - (for locals and guests outside the 3 villages, see above)
Season ticket € 59, - (with picture) until 15.12.2017, afterwards: € 89, -
Children and teens up to the age of 16 free! (Information including VAT)
With these tickets you can use all trails from the Ödensee to the Tauplitzalm.
---
Possibilités de repos
Unterschiedlichste Einkehrmöglichkeiten finden Sie entlang der Loipen.
---
Informations actuelles sur les pistes
Site Web

E-Mail

Téléphone

+43 (0)3623 2444
Pistes de ski de fond Vue d'ensemble
16
pistes de ski de fond traditionnelles
88.6 km
48,1 km Bad Mitterndorf 17 km Pichl-Kainisch 12,4 km Tauplitz 11,1 km Tauplitzalm
16
Pistes de patinage
88.6 km
48,1 km Bad Mitterndorf 17 km Pichl-Kainisch 12,4 km Tauplitz 11,1 km Tauplitzalm
2
Pistes en altitude
11.1 km
Tauplitzalm: Lärchwald Loipe 6 km Sturzhahn Loipe 5,1 km
Divers
Location
Bad Mitterndorf: Skischule Neuper, Skiverleih Pürcher und Aldiana GrimmingTherme; Tauplitz: Skiverleih Mount Action und Skiverleih Vasold
Ski de fond Service
Bad Mitterndorf: Skischule Neuper, Skiverleih Pürcher und Aldiana Grimmingtherme; Tauplitz: Skiverleih Mount Action und Skiverleih Vasold

Contacter Office du tourisme
Tourismusverband Ausseerland Salzkammergut
Adresse

Pratergasse 388, A-8990 Bad Aussee

Téléphone

+43 (0)3622 54040 0

FAX

+43 (0)3622 54040 7

E-Mail

Homepage
Les meilleurs endroits pour le ski de fond