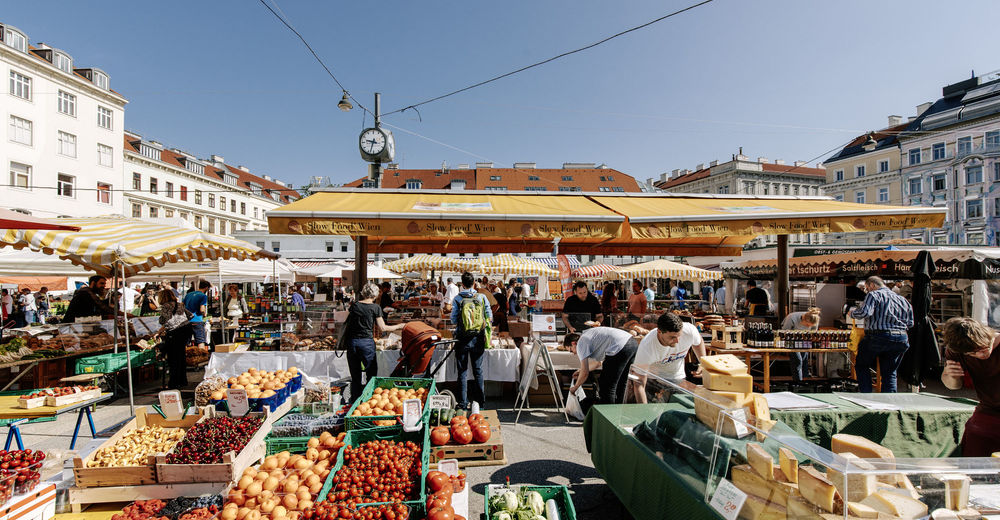 © WienTourismus/Paul Bauer - Paul Bauer
© WienTourismus/Paul Bauer - Paul Bauer
© WienTourismus/David Auner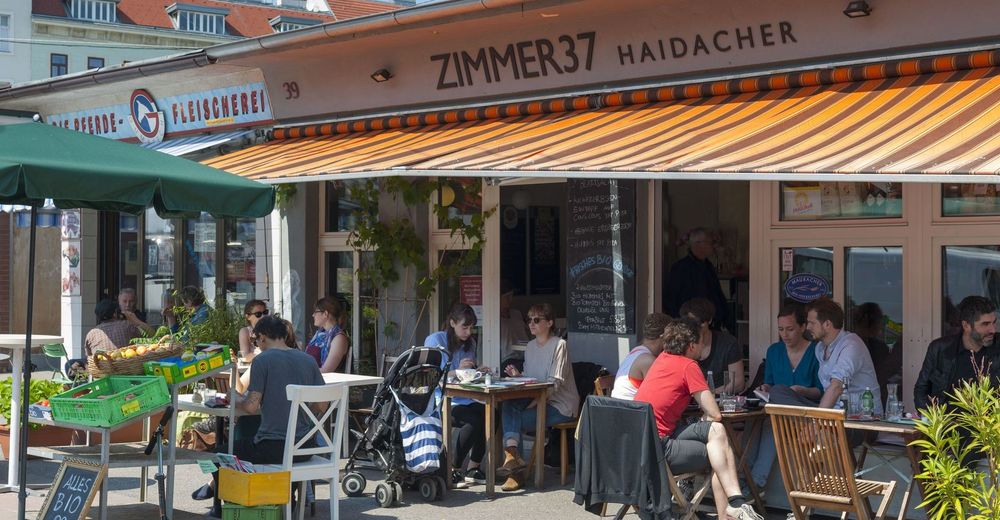 © WienTourismus/David Auner
Exciting food and young art make the area around the Karmelitermarkt an exciting Viennese Grätzel. The up-and-coming Karmeliterviertel is less than ten minutes' walk from the city centre.
The Gasthaus Schöne Perle is considered a gastronomic pioneer in the former Jewish quarter on the other side of the Danube Canal, reinterpreting classic Viennese cuisine. Today, the Schöne Perle is one of the successful examples of the new Beisln, with simple interior design and good cuisine. Diagonally opposite is the Marktlücke, where austrromediterranean cuisine is served in a stylish and cosy atmosphere. Especially recommended: the dishes with fish and seafood.
A hot tip in the immediate vicinity is called Skopik & Lohn and entices with a friendly and discreet interior, a guest garden and Viennese cuisine with an international touch. On the way there you will pass by Pizza Mari, a trendy pizzeria.
The Karmelitermarkt, which has been in existence since 1671, is also experiencing constant gastronomic growth: Room 37 is a delicatessen shop and restaurant in one. The owner offers vegetarian five-element cuisine. The beautiful weather can be enjoyed in the sunny Schanigarten. You can have an extended breakfast - and on Saturdays until long after noon - in the *Café-Bar entrance located directly on the edge of the market. In the evenings there are often concerts, readings or cabaret evenings.
The Tewa, like its sister restaurant at the Naschmarkt, also offers modern and organic cuisine at the Karmelitermarkt. Right next to it, Kaas am Markt is located: a mix of delicatessen and restaurant with excellent organic and slow food products and small dishes. The pretty Cafemima offers various breakfasts and light meals during the day in a nice atmosphere.
The Weinschenke am Karmelitermarkt serves delicious burgers, while the Pizza Quartier serves authentic southern Italian cuisine in addition to wood-oven pizza. The Contor is a cosy wine bar and vinotheque with a focus on Austrian wines.
A bit further, around the corner from the Karmelitermarkt, there is the Kuchenladen Fett+Zucker. A small restaurant with nice vintage furniture and a cosy atmosphere, offering lots of cakes for your personal happiness. At the Karmeliterplatz the Schank zum Reichsapfel invites you for a visit. The Stadtheurige offers good wine and a wonderful Heurigen buffet. The smoked meats are particularly recommended.
Informations de contact
Informations complémentaires:
http://www.wien.info/de/einkaufen-essen-trinken...
Demandes à:
info@wien.info
Trouver un logement Wien - Stadt
2 Hôtels, Locations de vacances...
Fournisseurs sports Wien - Stadt
Webcams