Slovenia's most important writer.
Ivan Cankar (1876 – 1918) is considered to be Slovenia's most important writer. The original house which stood on this site was of wood and thatch construction. That house burnt down in 1879.
The current house was constructed in 1880 by new owners and was of the same appearance as is seen today. In the black kitchen, the main room and on the balcony you will see furniture and other items from the late 19th century, which gives us a glimpse of the everyday life of the Cankar family. Today the house is a registered cultural monument and museum.
Open:
Tuesday-Friday: 9:00 to 13:00, Saturday, Sunday and holidays: 14:00 to 18:00, Monday closed. Closed from 1st November to 31 March.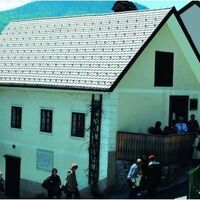 Informations de contact
Informations complémentaires:
zavod-cankar.si
Demandes à:
tic@zavod-cankar.si