Hôtel

100 Lits, 52 Chambre

Kinderhotel Appelhof

Mürzsteg 4, 8693 Mürzsteg
A snow paradise for skiing, snowboarding, tobogganing, snow tubing, riding a Ski-Doo and building an igloo or snowman!
Mini ski school with 2 magic carpet ride lifts directly on site
Rental of skis and boots for children up to 5 years inclusive
Ice skating, cross country skiing and a sledding hill at the site
(Free rental of ice skates, cross-country skis and sleds)
snowshoeing, igloo building, campfire with kids punch and mulled wine
Snow-Tubing, Ski-Doo, torchlight-hikes
Niederalpl ski center (only 10 minutes by car)
ALL YEAR ROUND at the Appelhof *
Appelhof all-inclusive board *:
Buffet breakfast, lunch and dinner buffet, dessert / fruit, drinks: fruit juices, soft drinks,
Grander water, coffee / tea, beer, wine.
Vast adventure playground * with NEW Petting-zoo, Ski-Doo riding, snow tubing, snowman building and sledding
Kids Club "Appel Worm" * with daily child - and baby care in 145m² ( 1,560 ft² ) facility.
Outdoor adventure* for kids 7 years +, teens and adults:
Rappelling, climbing, bouldering, night expedition, campfire with mulled wine and children's punch, rope slide "Flying Fox", Tower of crates, sledding with torchlight, snowshoeing ...)
Fairytale castle * with 1000 m² ( 11,000 ft² ) indoor playground with "soft play" area on 2 levels, pool of balls, slide, fusball table, billiards, toy car racing center, Wii consoles
Various Entertainment programs *: Children's disco, balloon art, face painting, skill contests, game nights, creative workshop, gym, etc.
Keep-Fit Program *: running, Nordic walking, aerobics, cross-country skiing, stomach - legs - and bottom exercise, snowshoeing, Zumba, Capoeira, ...
Everything for your baby*: Baby monitor, baby package, baby strollers rental , buggies, baby carriers, Bottle warmers, changing mat, potty, baby bath tubs
Business corner, wireless internet access *
Oasis of Comfort * with massages, beauty treatments, hairdresser, body wraps, beauty baths, Finnish sauna, Tepidarium, infrared sauna, whirlpool, Taning beds
Spa facilities with indoor pool (30 ° C, 86° F), Cave slide, kiddie pool *
Chambre/Appartements

Märchenappartement
Family Room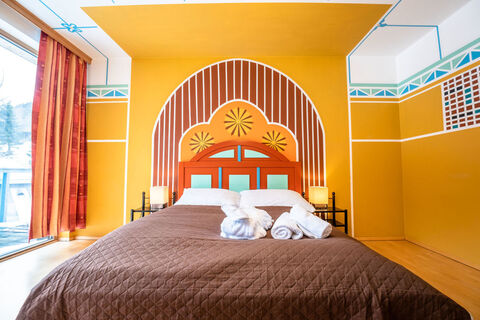 Afrika-/Orientappartement
Family Room

Vidéos
Our unique premises are car-free and cover an area of about 8 hectares.
Prix
Modes de paiement
Visa, Mastercard, Diners, Cash
Remarques
All prices are all inclusive.
Off season: € 95,- (double) - € 125,- / night / adult (Fairytale Apartment)
Mid season: € 101,- (double) - € 131,- / night / adult (Fairytale Apartment)
High season: € 105,- to € 113,- (double) - € 135,- to € 142,- / night / adult (Fairytale Apartment)
(Prices valid for minimum 2 adults, otherwise single supplement € 15, -/night)
Children's rates:
0 to 5,99 Months € 0,-
0 to 2.99 years € 33, -
3 to 5.99 years € 50, -
6 to 12.99 years € 63, -
13 to 15.99 years € 71, -
Dogs are welcome at a cost of € 10,-/ day without food
Room:
Double room with extra bed
(Kids in parents' room, bathroom with shower and toilet, telephone, Satellite TV )
Connecting rooms "standard"
(Master bedroom and children's bedroom with bunk beds, shower or bath and toilet, telephone, Satellite TV)
Apartments with a connecting door in the "Orient" or "African style"
(Separated parents and their own children's room with bunk beds, bathroom and WC, telephone, Satellite TV)
Fairytale apartments in our colourful Milan House or Garden House
(Separate master bedroom with four post bed, spacious children room, bathroom and WC, Satellite TV)
Hôtel

100 Lits, 52 Chambre

Kinderhotel Appelhof

Mürzsteg 4, 8693 Mürzsteg
Stations de ski préférées